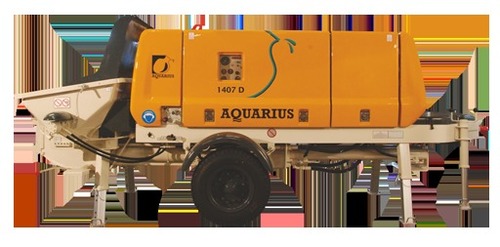 Stationary Concrete Pump
Product Code : 17
Product Description
Trailer Mounted Concrete Pump
Leveraging on our wide expertise & skills, we are renowned as one of the profound manufacturers and exporters of Trailer Mounted Concrete Pump. These pumps are tested by our quality inspectors on several parameters and set norms. The pumps are in extensive market demand owing to their features such as minimal maintenance cost, excellent reverse pumping and leakage proof construction. Offered Trailer Mounted Concrete Pump are immensely used to guard the engine from overloading and hydraulic stem system from overheating.
Further Details:

Trailer Mounted Concrete Pump
Influencing on our extensive proficiency & talents, we are well-known as one of the intense creators and exporters of Trailer Mounted Concrete Pump. These pumps are analyzed by our quality auditors on quite a few parameters and set standards. The pumps are in widespread market demand due to their characteristics such as minimum maintenance price, outstanding overturn pumping and seepage proof structure. Our presented Trailer Mounted Concrete Pumps are vastly utilized to safeguard the engine from congestion and hydraulic stem system from excessive heating.
Further details
700 & 1000 Series Diesel and Electric line Pumps have smaller towing length in their class and are perfect for pumping concrete up to a height of 60-100 meters. An exclusive characteristic of the AQUARIUS Concrete Pumps is the water maintenance system and efficient overturn pumping of the concrete.
Mainly Fuel- Efficient Series

Extended maintenance intervals

Most dense Concrete Pumps

Appropriate for pumping higher size totals than any other form in its class

Inherent benefits of huge concrete pumps as the core pump utilized is similar in width as that in advanced pumps

Low probability of chocking

Stern design for extended life of wear parts

Considerably variable concrete output, from zero to highest

World proven Technology
Model Specifications
Unit
703 D
703 E
Diesel
Electric
Prime Mover
kW
34.6
37
Theoretical Output
m3/hr
30
23
Del. Cylinder Diameter
mm
200
200
Del. Cylinder Stroke
mm
700
700
No. of Strokes
per min
22.5
17
Hydraulic Transmission
--
1:3.3
1:3.3
Concrete Pressure
bar
65
76
Concrete Hopper Capacity
l
500
500
Delivery Distance**
Horizontal
m
320
320
Vertical
m
80
80
SERIES
DIESEL DRIVE
ELECTRIC DRIVE
700
703 D
700 E
1000
1004 D SHP
1003 E
1400
1405 D
1407 D
1405 E
1400 High Pressure
1407 D HR
1400 HPD
1410 D
1400 HPE
2100 Extra High Pressure
2100 D EHP
2100 E HP
2100 E EHP
PLEASE CONTACT AQUARIUS ENGINEERS OFFICIAL WEBSITE www.aquariusengineers.biz FOR MORE INFORMATION.