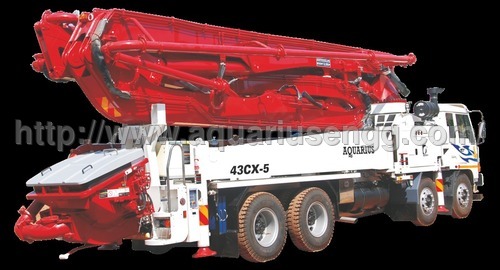 Product Description
Truck Mounted Boom Pump
We, Aquarius Engineers Pvt. Ltd. is a professionally managed fast growing company with impressive track record in manufacturing and exporting a complete range of Truck Mounted Boom Pump. We are offering the boom pumps in various lengths like 36m and 32m to meet client's diversified requirements. The salient features of boom pumps are their excellent reverse cleaning & pumping, low maintenance cost and digital temperature display. The Truck Mounted Boom Pump are used in large construction projects as it offers high volume pumping.
CONCRETE BOOM PUMP - 43CX-5
Technical Details:
Main Features:
Front diagonal outrigger
Rear swing outrigger
Closed loop hydraulic system
Tungsten carbide wear parts
Cable remote control and cable
Cover for Hopper
Support pad for outrigger
Boom
5 section RZ folding boom
Boom made of high strength alloy steel gives maximum strength & performance and minimum weight of the structure
Remote Control
State-of-art handy & lightweight cable remote control
Unit with all the pump & boom functions in-built
Wireless control 'optional'
Centralixed Lubrication System
For selected points & also easy access, manual grease lubrication system to all points
Modular Type Boom Control Block
Occupies less space & is adaptable to proportional boom movement
Two-hand operation control of outriggers ensures safety in operation
PLEASE CONTACT AQUARIUS ENGINEERS OFFICIAL WEBSITE www.aquariusengineers.biz FOR MORE INFORMATION.